Looking for Case Managers, Registered Nurses, and More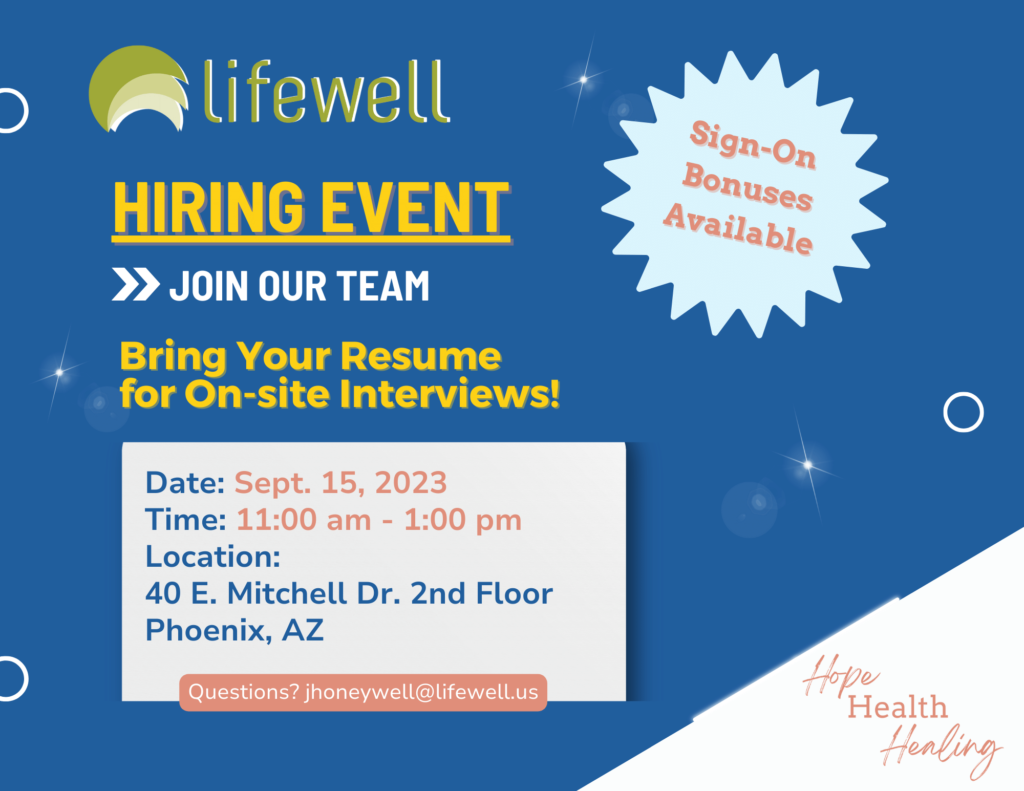 🌟 Join Us at the Lifewell September Hiring Event in central Phoenix🌟
Are you passionate about making a positive impact on the lives of others? Do you believe in the power of mental health support? If so, we've got an exciting opportunity for you!
🗓️ Date: Friday, September 15, 2023
🕒 Time: 11:00 a.m. – 1:00 p.m.
📍 Location: Lifewell – Mitchell, 40 E. Mitchell Dr., Phoenix, AZ 85012
You'll also meet compassionate individuals like you who are eager to contribute to our mission of promoting mental wellness and supporting those in need. Whether you're an experienced professional or just starting your career journey, there's a place for you in our caring community.
💼 Explore Opportunities: Whether you're interested in working as a case manager, peer support specialist or nurse, you'll find roles that align with your skills and aspirations.
🤝 Network with Experts: Engage in meaningful conversations with experts in the field of mental health. This is your chance to learn from experienced professionals, gain insights into the industry, and foster valuable connections that could shape your career path.
🎉 Why Attend?
Discover job opportunities in a supportive and caring environment.
Connect with like-minded individuals who share your passion.
Learn from experienced professionals and expand your horizons.
Make a difference by contributing to the well-being of individuals dedicated to improving their health.
Don't miss out on this fantastic opportunity to take a step towards a fulfilling and impactful career in the field of mental health.
Walk in and Learn more
So spread the word, bring your resume, and get ready to embark on an inspiring journey with us. Together, we can share hope, health and healing throughout the Phoenix area.
If you have questions or need additional info, please contact Jill Honeywell at jhoneywell@lifewell.us
Don't forget to bring your resume for on-site interviews!